When it comes to commercial roofing services in Canada, we, at Roof One, take pride in providing the best among the rest. Commercial roofing is not a common task and there are various things that need to be taken care of. Budget is important and so is the durability of the roofing. At the same time, style and cost of repair and maintenance also come into consideration.
As compared to residential roofing, commercial roofing pays more attention towards the efficiency and longevity of the roofing instead of simply focusing on style, color, etc. The installation area is often larger than the residential roofing and so is the need and cost of maintenance and repair.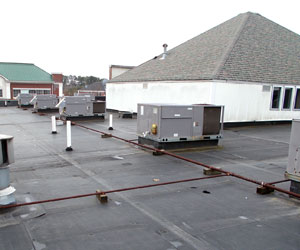 We excel in providing consultation to select the best solution for various kinds of commercial units. Then we provide installation, repair and maintenance services to make ourselves the best roofers in the area of Mississauga, Oakville, Milton and Burlington.
If you are worried about making the right choice of commercial roofing for your organization, don't look any further than Roof One, as we transfer all your burdens on our shoulders and help you build your organization with protection from the above while being economical and affordable.