Soffits and Fascias are important parts of any roofing system and we, at ROOF ONE, know their value and importance. These two components of a roof help in proper channeling of the rain water that is collected at the roof top. So, whether it's a home or a business facility, understanding that the soffits and fascias boards are necessary for proper maintenance of roofs.
Apart from importance, soffits and fascias can also be integrated in the design and look of any roof by choosing ones instead of going for bland or white colored ones.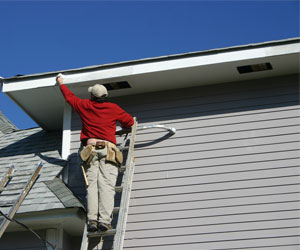 Often, homeowners like to DIY when it comes to renovating or installing soffits and fascias. But, it is advisable to take the help of a professional because time, energy and also material costs are reduced. This is where we bring you years of experience and commitment to quality through our service.
If you don't know too much about soffits and fascias, we would be happy to explain the functionality and use of these components to you. At the same time, if you already use them and want to renovate/replace them, we would be happy to assist you.
We would be happy to answer any type of query you might have regarding soffits repair and installation in Mississauga and Oakville.
We are the best service providers in Canada when it comes to soffits and fascias. Get in touch with ROOF ONE.