You may be surprised to know that eavestrough problems are often caused due to incorrect or faulty installation. Roof One specializes in installing eavestrough in the whole of Canada.
Homeowners should take care of the gutters that they use because gutters play significant roles in the proper functioning of eavestrough. At the same time, after winters and Fall, it is a good idea to check the eavestrough as snow particles or fallen leaves can block the eavestrough.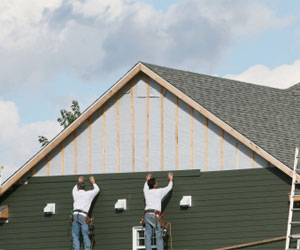 If you are inclined to check the eavestrough on your own and clean, it is a good idea. But we would suggest that you should get the help of a professional company because you won't be readily able to fix the problems in eavestrough. Of course, the solutions to eavestrough repair will depend on the extent of the problem. It makes sense to have eavestrough repair done by a professional. This is where we come into picture!
As some general tips, we suggest that you try to clean your eavestroughs regularly. If they are not clearned up, water can build up. If you fell you can't do it, let's know and we will provide you our expert services.
You can contact us for any type of eavestrough repair, eavestrough cleaning & installation in Mississauga, Oakville, Brampton, Milton.