We, at ROOF ONE, understand the importance of roofs to a house and a business. We understand that apart from protecting you and your belongings, roofs also play a vital role in the structure of any building. However, whether you are a homeowner or a business, to keep them in optimal condition, you need to take a good care and also resort to roof repair whenever required.
The cost of roof repair depends upon roof type, local regulations, and size of the roof, extent of damage or repair work needed, and roofing fixtures. We take in consideration the fact that you will like to search a bit before zeroing down to any company as your choice for roof repair.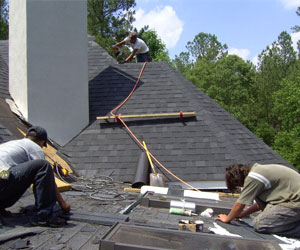 So, we provide you clear distribution of the costs based on various factors involved so that you can have a fair estimation as whether we are viable or not. And we must say that we are!
Our quality and experience speak for us and the long-queue of customers that rely on us for all types of roof repair services that they need. We proud ourselves by servicing our repeat customers because once they hire us, they don't think to hire anybody else.
Safety remains our top priority and quality and budget follow the suite.
If you are looking for emergency and leaking roof repair, or roof fix in Mississauga, Oakville, Burlinton, Brampton, you need not look further than ROOF ONE as we deliver the best services in Canada.