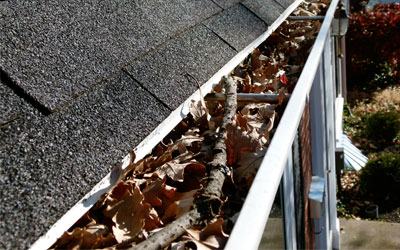 Rain gutters or eavestrough are designed only for one purpose to protect your foundation or house from water damage. Dirty eavestrough give invitation to various problems. Almost every home in Oakville has them, but there are very rare homeowners who remember about the cleaning service of them. As per suggestion of professionals it is important to show some love to your rain gutters or eavestrough with a regular cleaning service. Having a clutter free eavestrough system is essential for your landscaping. It not only protect your house from the rain water by pouring down it, but also keep water away from your premises.
Let's have a look at some reasons and know the importance of gutter cleaning service.
Keep water from overflowing: There are various elements that can clog gutters such as leaves, and debris. It leads to overflow and end up with the water running down the inside of your home. Overflowing water does not damage ceiling or roof, but it also affects the whole foundation of your premises and curb appeal.
Pest proof your premises: Clog gutters will not only allow water to stand and affect the brickwork of your building, in fact, gives an invitation to various pests. A clogged eavestrough is the best place for mosquitoes, insects, mice and rats. Make sure you clean eavestrough on a regular basis to prevent entry of pests in your house.
Prevent structural damage: Structural damage is the worst thing for every homeowner. Everyone spends their whole investment to build a house. So, no one like any kind of structural damage. Whether it is the roof leaking or clogged gutter problem, damage to your building is extremely costly.
Leaking basement: The damage also extends to your basement or the entire premises. Clogged gutters are the number one reason for water in basement. If eavestrough filled with leaves or debris, water can be diverted into the basement, even it can crack your house's foundation.
Save money: If the rain gutters are not cleaned regularly, a blockage can develop various issues like mold and mildew. Once it starts to create problems, it can lead to expensive repair. If you live in a rainy area, it is crucial to check the gutter system on a regular basis to save your hard earned money.
Rain gutters or eavestrough should be cleaned every spring. To avoid foundation issues, every three month inspection is important. If you need help with eavestrough maintenance or repair, feel free to call Roof One Limited. We serve the areas of Oakville, Mississauga, Brampton and Burlington.