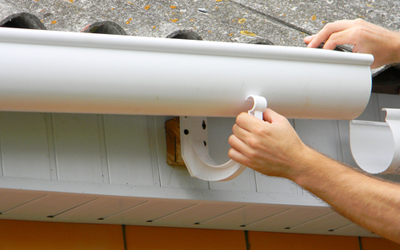 Gutters are one of the essential home elements that protect a roof from water damages. They are made up of sturdy material, such as galvanized steel or aluminum or copper, which makes them durable and strong. If cleaned and maintained properly, gutters or eavestrough tend to stay in shape for years to come.
In case, the aluminum gutter on your roof is titled, misaligned or broken, its time to get it repaired or replaced professionally. Some signs to look for that screams gutter replacement are:
Cracks or holes

Due to weather and water damages, a gutter is always on a higher risk of corroding or rusting. If unattended, this rust can lead to severe cracks and holes through which water may leak out. Never ignore the holes in an eavestrough and get them repaired by a professional. In case, the damage is beyond repair; the only solution is replacement.

Broken fasteners

Metal fasteners are used to provide grip or hold a gutter to the roof at a certain aligned level. Though fasteners are capable of handling the weight of an eave, they may tend to loosen or break over time. Get the fasteners tightened to prevent a gutter from falling. If still, the gutter seems to be misaligned, opt for replacing it.

Separated gutters

Gutters are usually in a separated form and are fastened as a single element using nuts, bolts and fasteners. If not properly maintained, they may separate from one another, thereby causing significant damage to the roof. In case your residential gutter separates more often, get it replaced by a professional.

Sagging gutters

Maintaining a proper pitch is important to direct the flow of rainwater towards a downspout. If your gutter lacks a proper pitch, the water may pool up or spill over from the side. Gutter replacement is an ideal solution to deal with sagging gutters.
So, these were some common signs that point towards gutter replacement. If your home gutters are overflowing or in need of maintenance, feel free to call our experts at Roof One for assistance.